"I'm a pretty good winner. I'm a terrible loser. And I rub it in pretty good when I win."  Tom Brady
We have over 45 of the best redemption and video games you will find in the USA.
Win tickets, get great prizes!! Choose from over 100 prizes!! Stop in and Win!
Newest Games 2018
Teenage Mutant Ninja Turtles
Barrel of Monkeys
Piano Keys
Zombie Snatcher
Mini-Dunxs
Let's Bounce
Pop the Lock
Treasure Quest
FEATURED NEW GAME: Cruis'N Blast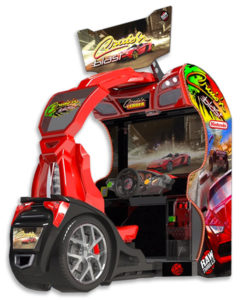 Cruis'n Blast, developed by the crack Raw Thrills studio team, takes Cruis'n into the new millennium as players zoom 200 mph through the bustle of London, blast through the exotic wonders of Madagascar, celebrate Carnival in Rio, amaze to the hi tech splendor of Singapore, and drive an earth-shaking thriller through Death Valley.